Ultrasound imaging, sometimes referred to as sonography, is a noninvasive medical procedure used to capture images in real time. It shows the structure and movement of organs and blood flowing through blood vessels. Ultrasound uses sound waves and not radiation to produce images. For other types of ultrasound performed at our clinics, see Ultrasound under our Services section.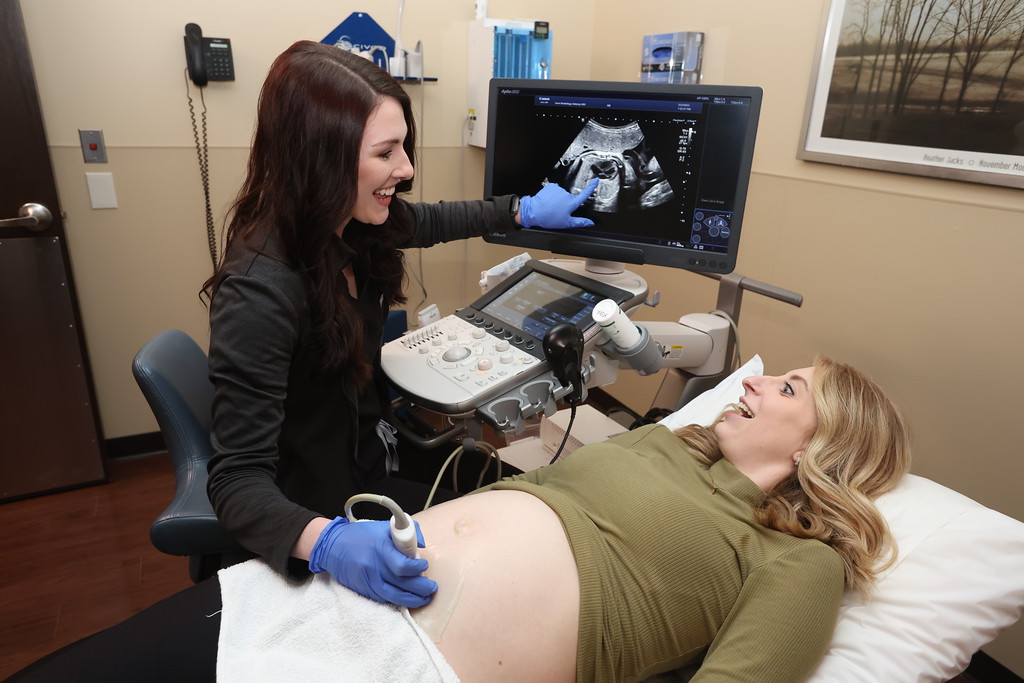 What happens during the test?
Our technologist will take a brief medical history. You will be asked to lie down on the scanning table. The ultrasound technician (sonographer) will place a clear gel on the area of the body to be imaged. The sonographer or radiologist will then press the transducer against the skin and sweep it back and forth over the area of interest. The transducer is a small hand-held device that resembles a microphone, attached to an ultrasound machine by a cord. Obstetric exams are normally performed transabdominally. If circumstances dictate, a transvaginal approach may be used.
After the exam, the gel is wiped off, and you may resume normal activities.
Ultrasounds typically take 30 to 60 minutes, depending on the exam performed.
How do I prepare for the test?
Most ultrasound exams do not require any preparation prior to the exam. Wear comfortable clothing around the area to be scanned. You may also be asked to wear a gown. For pelvic exams, please come to our office with a full bladder. Inform your technologist if you have any old images so they may be used for comparison.
When can I expect the results?
A radiologist will review the images and send a report to your referring physician within one business day. Your doctor will review the report and contact you with the results.
Women and Ultrasound: Obstetric, Pelvic, Breast and Thyroid
Obstetric ultrasound is performed to assess your baby's heartbeat and anatomy. Measurements taken during this test can help determine the gestational age, size, and growth of your baby. A complete ultrasound is typically performed when your pregnancy is at least 18 weeks. This exam is a comprehensive look at your baby's skeletal structure and organs.
Pelvic ultrasound is used to evaluate the ovaries, uterus, cervix, and bladder. It can be ordered following pelvic pain, abdominal bleeding, or menstrual concerns. It is used to help diagnose fibroids, cysts, and ovarian and uterine cancers.
Breast ultrasound is used to help diagnose breast abnormalities seen on mammography or felt during an examination. It is typically ordered following a mammogram or to assess a lump or focal pain.
Thyroid ultrasound is often performed for an enlarged thyroid, abnormal thyroid enzymes, or an abnormality seen on another imaging modality.
* The safety of our patients and those who accompany them to our office is of the utmost importance to the physicians and staff at Iowa Radiology. Please make arrangements for someone to care for your child/children during your exam. Thank you for your cooperation.