What is Low Dose 3D Mammography?
Breast tomosynthesis, or 3D digital mammography, converts digital breast images into a stack of very thin layers, or "slices," building what is essentially a "3-dimensional mammogram." These images are captured and stored digitally.
Now the radiologist can see breast tissue detail in a way never before possible. Instead of viewing all the complexities of your breast tissue in a flat image, the doctor can examine the tissue a millimeter at a time. Fine details are more clearly visible, no longer hidden by the tissue above and below.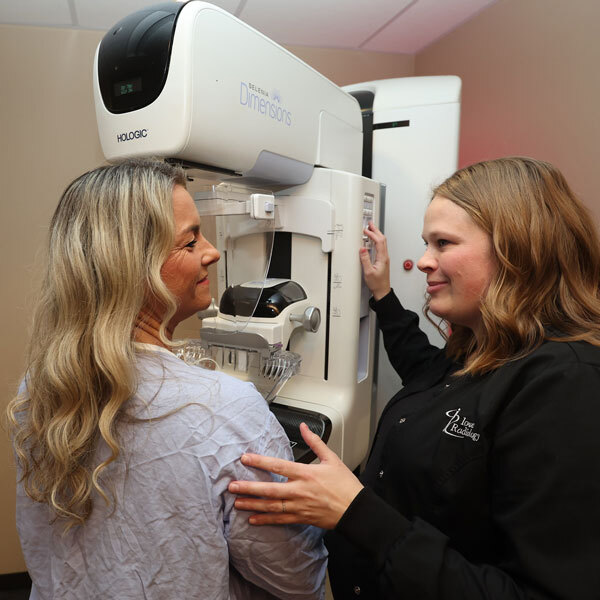 What are the Benefits of Genius 3D Technology?
Always a market leader, we are proud to announce the next generation in 3D mammogram technology, GeniusTM low dose 3D with Smart Curve Mammography.
GeniusTM low dose 3D mammography is clinically proven to detect 20-65% more breast cancers compared to 2D alone.1 It also reduces callbacks by up to 40%.(1,2) It is the only exam which is FDA approved as superior for women with dense breasts.(1,3)
The new Smart Curve compression device is more comfortable as it mirrors the shape of a woman's breast and applies uniform compression over the entire breast for added comfort. It is indicated for most women.
This new technology is now available at all our locations.
For women age 40 and over, an annual mammogram is the most important way to detect breast cancer in the earliest stages. Annual mammograms are usually covered by medical insurance and do not require a doctor's referral.
---
Sources:
1. Results from Friedewald, SM, et al "Breast cancer screen using tomosythesis in combination with digital mammography." JAMA 311.24(2014): 2499-2507
2. Bernardi D. Macaskil P, Pellegrini M, et al. Breast cancer screening with tomosythesis (3D mammography) with acquired or synthetic 2D mammography compared with 2D mammography alone (STORM-2): a population-based prospective study. Lancet Oncol. 2016 Aug. 17(8) 1105-13.
3. FDA submissions PO80003, PO80003/S001, PO80003 S004, PO80003 S005
How do I prepare for the test?
Do NOT use deodorant or perfume before your appointment. If your last mammogram was not performed at Iowa Radiology, please inform your scheduler. Your breast will be compressed while the X-ray arm makes a quick arc over the breast, taking a series of images from a number of angles. 2D and 3D images are obtained simultaneously. With tomosynthesis, additional compression and adjustment of the breast is not required. Iowa Radiology only performs 3D mammograms.
When can I expect the results?
A radiologist will review the images and send a report to your referring physician within one business day. You will receive a letter in the mail within one week from Iowa Radiology. If additional images are needed, we will contact you to schedule this follow up and notify your doctor. Your doctor will review the report and contact you with the results.